I learnt a new word "Ancestral Home" during Pongal time when we went to my granny's place in Vizag. Obviously, I had a lot of questions related to that new word. My mom got tired of my questions and decided to show me her ancestral home at Machilipatnam through #XploreBharat blog train.
Actually, this place is a very small place when compared to Chennai and looks very old too. My mom's granddad told me that it's his ancestral home too. Surprising isn't it? How can a single home become ancestral home to so many people? The shocking part is that even a street has been named on our family name. I was totally surprised and was asking what did we do to get a street named after our family name? Who is the person responsible for naming the streets? Do you guys know about the answer to these questions? If yes, please let me know OK?
After reaching Machilipatnam, we went first to our house (the so-called ancestral home) there and its called a Haveli in those days it seems. My uncle told me that it's a smaller version of Haveli. If the smaller version itself is huge, then I can't imagine how a bigger version would be. It's so huge and has a tennis court too. How can a single house have a tennis court? Tennis court should be only in the apartment complexes or in resorts, right? Also, they have a huge open well behind the house and this is the first time I am seeing an open well. I was so scared thinking what if somebody falls into it? The backyard is so huge and its covered with big trees, that initially I thought that we entered into a park. Only after seeing the outhouse did I realize that we are still in our house only. But its so far from the main building.
My Mom and dad took me around Machilipatnam and they showed me various popular places there. The first and foremost is the beach:
Manginipudi Beach: This is the oldest natural harbour and port of entry for all the foreign trade. Lot of foreigners used to enter into India through this port itseems. But heard that this port has been spoiled due to some cyclones long time back. My mom and her cousin's had a gala time during their childhood days. The beach is very clean and has black soil instead of sand in front of the water.
Pandurangaswamy Temple:While returning from Manginapudi beach, we went to a temple called Pandurangaswamy temple. Here the main god looks more like little krishniah in Guruvayur, which I have seen when I was a small baby. But my mom and others told me that this god is called Pandurangaswamy or vittal. But honestly, he looked more like a small boy to me and I asked my parents whether we can call him out to play with me. They all started laughing you know.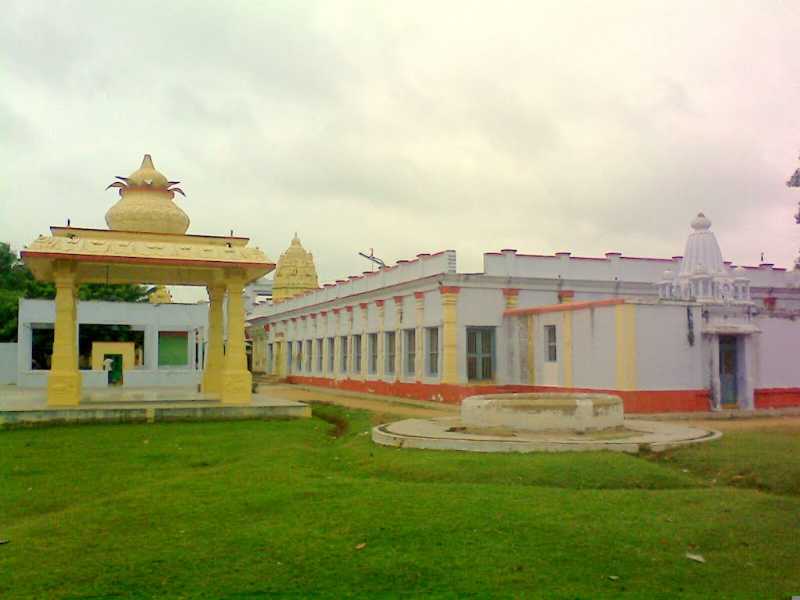 Koneru Centre: This is the most famous and happening place in Machilipatnam/ Bandar. Did I tell you that there is also another name to Machilipatnam too? It's called Bandar – reason being Bandar in Persian means "Port of Entry" and it's Persians and Spanish people who gave Machilipatnam a new name, as they entered India through this port.
Coming back to Koneru Centre, it's like any other big junction, with shops on all sides and lots of traffic. But we can find a lot of sweet stalls and flower stalls there. The flower stalls there are arranged in a totally different style when compared to that in Chennai. And the smell of the flowers is just awesome and very colourful too. This is the place where all the important historical events of Machilipatnam happened it seems. But honestly, I couldn't imagine those stuff like Gandhiji walking here and talking. May be I need to grow little more to understand what all my grand dad was mentioning to me. He was talking to me about a lot of personalities whom I haven't heard till now. Seeing my confused face, my mom told me that I would learn all about them when I grow big.
My uncle took me to a sweet shop called "Tata Rao Sweets" and made me taste new sweets called Bandar Laddu and Bandar Halwa. But I got tempted to see and bite another sweet too, which is my mom's favourite. Its called Jeedipappu Pakkam (Cashewnut cake) It was just awesome.
Please see click this link to watch the video about the long process of making the Bandar Laddu.
Then I went on to see the colleges where my granddad has studied. They are the oldest colleges having completed more than 100 years or so. They are called Hindu College and Noble College. These colleges have become the address to a lot of famous literary, political and cultural (Tollywood and other arts too) personalities.
The notable person is Pingali Venkiahgaru, whose photo is there in our haveli too. He is the one who has designed our National flag here in Machilipatnam. Another noteworthy person whom we should mention here is Bhogaraju Pattabhi Sitaramayyagaru. He was the person who started the famous Andhra Bank here. Can you guys tell me, how can a single person start a Bank? It's surprising, isn't it? If you ask my mom or my granddad they would give you a big list of famous people, but I couldn't remember them all. That's why I am mentioning only two, who became my favourites.
My mom's granddad told us that Bandar is the most happening place for all the political/literary fields. And that's the reason why the people of Bandar are so progressive that in those times it used to be said – "What Bandar thinks today would be agreed upon by the people across the state and nation after one or two years". Honestly, I didn't this statement at all, maybe I need to sleep over it and come up with my usual questions later. Will you guys help me in understanding the above statement?
There are lot more temples and places of worship in Machilipatnam, but I simply refused to go there as who would like to always visit temples tell me? But for your sake, let me tell you what all temples, I have given a miss, apart from the temples constructed by both the sets of grand father's of my mom:
Dattashram near Manginapudi Beach – This place is called Rameshwaram of Andhra, as the Sivalingam there is almost similar to that at Rameshwaram. And we need to take the holy bath in 12 wells, just like that in Rameshwaram. That's the main reason for me to skip this temple as you all know, how much I hate the head baths.
Saibaba temple – This temple is near the court in Machilipatnam and has the biggest Saibaba idol in front of the temple. I got so scared seeing such a huge idol and so I didn't want to enter that temple you know?
Shopping: Coming to the shopping point, Machilipatnam is famous for the kalamkari works and we went to see a workshop where this work is being carried out. So that I can learn more about it. Most of the articles are hand painted there with a lot of natural colours. I got more attracted to various colours and wanted to dip my hands in them, that my dad has to rush me out. My mom got some stuff there.
Another famous item to shop here is the Gold plated jewellery. Since none of us is that keenly into jewellery, we didn't enter those shops thankfully. But it seems the quality of the work here is awesome. You have to just enter one of these shops to understand its beauty then.
How to reach Machilipatnam: Machilipatnam is the district headquarters of Krishna district in Andhra Pradesh. This town is approximately 50 km from Vijayawada, which is connected by rail/road and air to most of the country. Vijayawada is the major railway junction through which all the trains have to pass if they have to enter South India.
This is our today's tour of Machilipatnam through #XploreBharat blog train, after covering Bhubaneswar with Pragnya aunty. Thanks to #XploreBharat blog train for giving me the opportunity to introduce my mom's ancestral home to you all. Our train is covering wonderful locations across India. Tomorrow our train would reach out to Preeti aunty to explore Ganapatipule with her.
This is a Blog train hosted by my mommy's friends, Aditi, Esha, Maheshwaran, Preeti, Saba, Pragun, Sanjota, Sonia, Sudip, Suhasini, and Supriya.
The sponsors like KAIV and FABZANIA are helping us by sponsoring this joy ride across #IncredibleIndia.
KAIV is a personal grooming accessory and appliances brand offering a wide range of world-class products.
FabZania is an upcoming food, travel, entertainment, and lifestyle web portal.