Tomorrow is going to be the super exciting day as we are going to have our first test match with Pink ball. That too, it's going to be a day and night test match. Thank god, the match is going to start on a Friday. What a super exciting weekend it's going to be. Do you all agree with this or not?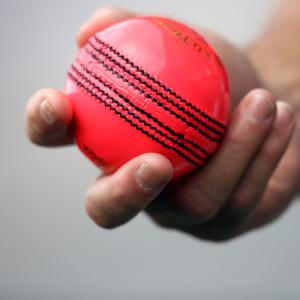 In fact, most of the newspapers are also full of this news only, saying that this test with the Pink ball is going to be super exciting. After seeing so much being discussed about the Pink ball, I asked my dad as to why there is so much hype about this new Pink ball and how is it so different from the earlier white ball.
Then, he told me that the pink color has been selected to improve the visibility of the ball in the night time.  He recalled how my mom rejects my requests to play cricket at my house in the night with the yellow tennis ball. That's mainly because the yellow color or the white color is not visible very clearly under the lights. That's so wonderful, isn't it? The management really thought about all the problems players face while playing cricket and that's why they are introducing the new Pink ball. I asked my dad also to get me the Pink ball, so that I can play all the time. Now, my mom will not have any reasons to say NO for my cricket isn't it?
Related Posts: My Chat with Boom Boom Bumrah
Now comes the best part, as the match is going to be the day and night match, I can cooly watch the whole match without missing any part. Who would like to miss our famous Mayank's sixers tell me? Even Mr. Sixer Umesh is so fabulous to watch, isn't it? I want to bowl like him you know. Earlier I used to copy Bumrah a lot, but poor Bumrah has got a sprain in his wrist and is missing a lot of matches. I hope his mom is taking good care of Bumrah. But I just want to see both Bumrah and Umesh on the field together. That's why I wrote this message to Virat. Hopefully one of you guys, will send this message to Virat uncle isn't it? Please let me know how excited you are about the Pink ball test tomorrow.
Message to Virat Kohli:
Dear Virat uncle,
All the very best for the super exciting match tomorrow. My sincere request to you is that please try to finish this match by Sunday. Otherwise, I wouldn't be able to see the match till late night on Sunday. I have the school on Monday and my mom is very strict about my bed timings. In case, if you think that the match would extend beyond Sunday, can you please call my mom and ask her for permission to stay up late.
Also, please tell Mayank to play carefully as this is a new ball and I heard that it swings a lot from the commentators. I just hope that Umesh will not get any sprain in the wrist just like Bumrah, while playing this new ball which is little more heavier. Wish to be present in the stadium to see how this match unfolds, but can't do that as I am still small and my mom won't allow me to travel.
I had a dream the other day, that I am playing along with you and you are teaching me new techniques in batting. And we were using all the white, red and pink balls in our practise itseems. Honestly, am not able to decide whether I want to be a batsman or a bowler or a commentator. Commenting seems fun, but at the same time, what's fun in just sitting in one room tell me? We need to be on the ground playing and sweating out isn't it. What's your recommendation for me in this regard?
Also, I want Rohit to hit century, its been ages since Rohit played nicely again. What a treat it was to watch Rohit in the world cup. Can you please tell Rohit uncle also to play nicely. I keep talking and shouting so much during the match that my mom tells me that my neighbours are getting annoyed. Please tell my mom to chill out and enjoy the match along with me.
I also want to meet you all when you come to Chennai next time during the IPL season. I am following the initial talks on the IPL preparation from now itself. May be post IPL, in summer I might get a chance to join the cricket academy. I need your strong recommendation on the same to my mom too. Will you come and meet me please..I will share all my stuff with you.