Its going to be a busy and exciting day tomorrow as we (me and my friends) are going for camping trip in a thick forest near Ooty. Its been such a long pending trip that all of us are eagerly waiting for.
The forest is so huge with so many tall tall trees. Its nothing like any other parks I have seen till date. I think all the trees in the world have come to this forest only. On a hot summer day like today also, its so cool and chill inside the forest. We are not able to see the sky at all as its been covered with all the tree tops only. My dad has made us walk for so long that I don't remember when we started. My legs have started aching and telling me that they can't take one more step. Luckily just then we spotted the camp site. There are so many numbered tents there and we kids ran out as soon as we saw them to chose the best tent for us.
After selecting the tents we went to a stream near by to have a bath and get refreshed. Water is really so cold and also sweet too. So I didn't step down into the stream like my other friends to take bath. Just drank water to my tummy fill and started walking slowly along the stream. Then after some time, I saw some thing shining in yellow colour in the evening sun light. So I just got curious and started walking towards it. After I went little closer only I had realized that its a yellow tiger with all the black stripes. Its skin is shining in the evening golden sun rays. Its sitting down under a tree with its babies. There are around 3 baby tigers there. Seeing them sitting closer to Mom, I felt like playing with those babies and also wanted to have a ride on that tiger just like how Mowgli in Jungle book does. It would be fun to have them become my friends isn't it. So I started walking towards them. Just then I heard the voices of my friends and parents at the back. I guess, "They were looking, but I didn't care". I ran towards her anyway.  I just reached nearer to the mommy tiger and she got up as soon as she spotted me.
In the mean time, I fell down and my ankle started paining a lot. I tried rubbing my ankle and found myself in my own room. To my utter amazement I fell down from my own car bed and not in the forest and in the mud pathway. That's when I realized that I dreamt about the camping I was about go over the weekend.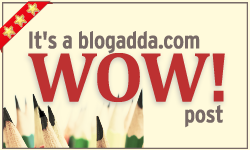 This is the fifth post written as part of the 
#MyfriendAlexa campaign

 for Blogchatter.
I am taking my Alexa rank to the next level with Blogchatter.