We have crossed half-way mark in the #A to Z Challenge and don't you all think it's exciting to read so many different blogs each day with a single letter. It's the letter N day today. And I am here to introduce you to the first Quarrel Master of the world from Indian Mythology. This Quarrel Master also acts like messenger, who can be compared to Postman/mail man in the current world. Now all these people are getting replaced with electronic mails. Isn't it amazing how the world is progressing?
Yes, I am talking about none other than Narada – the Quarrel Master in Indian Mythology. Narada is an ardent devotee of Lord Vishnu and he is always seen chanting "Om Namo Narayana". Narada carries his tambura wherever he goes along with kartaal. He is a very good musician and keeps singing Vishnu bhajans all the time.
Narada has got the powers to travel all the worlds and he is friendly to all the races. He is even friendly with humans, demons, snakes, animals along with Gods. Everybody respects him a lot for his knowledge and devotion to Lord Vishnu. Though he is a learned person, he is also known for his mischief. He is very mischievous just like me. He can start the fight between two people very easily. The reason why I like Narada is for his mischief only mainly.
Story of Narada:
My granddad always loves to tell me this tale of Narada. Once it seems, the sage Durvasa went into a meeting held by Lord Shiva. Though he entered late, he didn't apologize to anybody, but went straight and sat next to the Lord it seems. Knowing for his anger and fierce nature, nobody in the meeting said anything to the sage Durvasa. Then Lord Shiva has asked him how are Durvasa's studies going on? Then Durvasa showed him the bundle of books he is carrying and replied that he is very busy reading all these books.
Here comes our mischief monger now – Narada immediately jumps up from his chair and responds back to Durvasa saying "yes Donkeys are always busy carrying loads". Durvasa gets very angry and was about to curse Narada it seems. Then Narada responds back saying that – "this shows your real knowledge". What is the use of studying so many books if you can't respect the elders in this meeting nor follow the protocol of the meeting? As soon as you arrived here, you went and sat next to Lord Shiva disturbing all the proceedings and now behaving very badly due to your quick anger and temper.
After realizing his folly, the sage Durvasa threw all the books into the sea and went on to meditate/penance, so that he can gain control over his emotions.
Narada with Lord Vishnu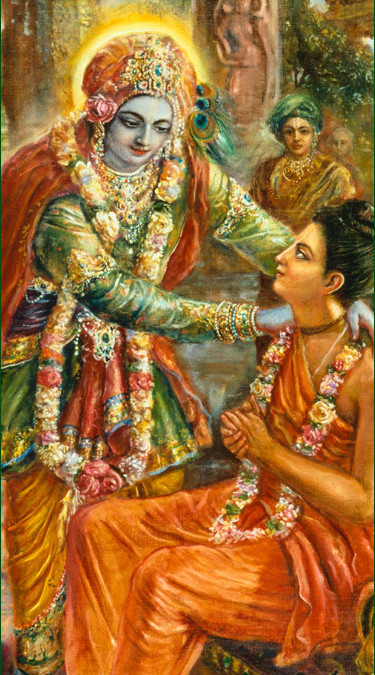 Once when Narada went over to the Lord Vishnu's abode and started telling so many stories from the other worlds. In between those stories, he started mentioning that he has started the fight between two people or how he had created trouble for so and so person. Though Lord Vishnu enjoyed all this conversation, in the end, he asked Narada as to why he is doing all this mischief by creating troubles to everyone? Then Narada answered back saying that he was just testing one's faith in Lord Vishnu and if all these people are real devotees then they wouldn't believe all his tales and get into trouble.
Now, don't you think Lord Vishnu himself was left speechless after Narada's reply? That's the precise nature as to why Narada has become my favorite. Would you agree or not?
Lessons from the Quarrel Master:
Don't show or throw your attitude that you are a learned person.
Enjoy every minute of life by sharing your happiness with people around.
Not to start fights between two people unnecessarily.
Hope you enjoyed my story about Narada, the first Messenger in Indian Mythology. Isn't he a jolly good chap. I think we all should be like him. What say, folks? See you tomorrow again with another letter. Till then, have fun and please drop by to read my earlier articles at this link. Happy to be participating in #BlogchatterA2Z and #AtoZChallenge