I heard from my Mom that today is my friend little Krishniah's birthday. No wonder I was not meeting him in my dream land these days. I was curious as to why I was not able to see Krishna in the dream land, now I understand the reason. So I thought of writing this letter to him.
Hey Friend,
                  Wish you a very Happy Birthday!!! How are you doing, not able meet you these days. Have you become so busy now a days?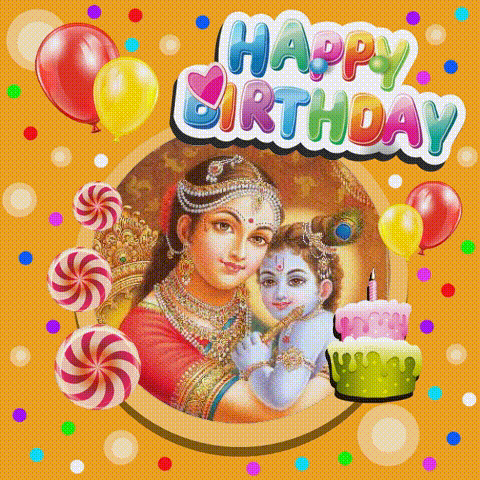 I feel so sorry for you and I don't want to be in your position any time. Do you know why? First of all, my Mom and Dad themselves doesn't know how old are you, but always keep kid's stuff for your birthday. If you are really a grown up like my Mom and Dad, you would not like them right?  My parents don't have any idea on this regard. Secondly, they only keep milk, curd and butter instead of cake for the birthday party. Poor you, you don't get to see the party poppers nor any decorations nor the cake. You also miss the fun of the lotus candle. All you get to see is Milk, butter and curd (yogurt) only and how much of it can you eat.
             Then my next question is why do you have to visit all the houses and eat there. On my birthday, I only celebrate it at my house and on your birthday these people won't let you celebrate in your own house. So sad isn't it? Won't you miss your parents? Why don't you tell them to stop expecting you in their house…won't you get tired roaming around all these houses and eating. Nobody gives you a chair also to sit. So sad isn't it. The bad thing is that they forget all about you after today just like how they forget Santa or Ganesha. But we kids won't forget you as we always play with you.
              These elders all pray and do so much for you today isn't it? But at the same time, when we kids do like you…say, we try eating mud, or butter – why do they have to scold us?  We are your friends right, so we can do what ever you used to do isn't it? They don't let us eat your prasadam also happily. Nor they let us play in mud and water like how you used to enjoy. But one thing they make us dress like you and put lot of butter, curd on our faces. It becomes so sticky and smelly. I don't like it. But how do you tolerate the same? Do you have any special secret if yes, can you please share with me.
Please do come back to dream land soon friend, we miss you a lot, your friend.
This is the second post written as part of the 
#MyfriendAlexa campaign

 for Blogchatter.
I am taking my Alexa rank to the next level with Blogchatter.